Leadership Training
Overview
Unlike pie-in-the-sky lectures or motivational speeches, Adventure Associates provides down-to-earth and practical experiences that enable emerging and elite leaders to maximize your ability to inspire and lead others towards common goals. The hallmark benefits of our leadership development programs include:
Increased knowledge AND skills—especially grounded in collaboration and communication
Increased ability to derive wise decisions by leveraging diverse perspectives
Improved ability to apply various leadership styles appropriate to a range of situations
Improved observational and analytical skills (ability to see what's needed)
Improved ability to lead in a personalized, authentic manner rather than following formulas
Renewed energy, excitement, and inspiration to improve
Increased self-awareness and confidence resulting from focused practice
Deepened relationships and authentic connections with colleagues
---
Request Proposal »
Leadership Workshops
The skills, strategies and secrets of successful leaders.
The Leader's Role in Stages of Team Development
Leadership is a combination of skills applied across diverse…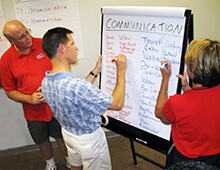 Communication for Leaders
In most every workplace the most…
Problem-solving for Leaders
Effective leaders often point to their mastery of creative problem-solving to explain their success, but the…
Decision-making for Leaders
Nothing derails progress or creates more maddening logjams than an unmade, half-made…
Effective Meetings for Leaders
Nothing is as discouraging or undermines organizations quite like a poorly run meeting…
Storytelling
Storytelling is the time-tested method of engaging, compelling and persuading, and is linked to our earliest…
Emotional Intelligence for Leaders
For a leader, it isn't enough to be smart…
---
Training Methodology
Rather than relying on PowerPoint presentations and lectures, expect highly experiential, elicitive approaches for instilling knowledge and developing skills. Through a series of custom-designed challenges, participants face increasingly difficult (yet enjoyable!) scenarios that call upon effective collaborative leadership skills in order to succeed. The facilitator(s) provide short presentations along the way, including revealing helpful models, tools, and tips. Most importantly, the facilitator(s) carefully guide participants through reflective pre and post-activity debrief discussions aimed at uncovering wisdom and strengths within the group. Such lessons are tracked and fed back in the form of a post-program report, followed by additional conversations about strategic follow-through. Key aspects of the methodology include:
Non-formulaic; every program is customized to the group
Inclusive and participatory activities conducive to full engagement
Practice activities and scenarios
Enjoyable and memorable experience
Tailored to abilities and interests of team/group
Deliberate sequencing of activities; skills developed incrementally
Optional multi-program series for ongoing development
Ongoing support, including optional leadership coaching
Blend with Team Building
Every Adventure Associates Leadership Workshop includes experiential (learn-by-doing) activities, regardless of duration. And, in order to fully understand, appreciate, and practice your leadership skills, the following team building modules provide an ideal opportunity for taking risks with your new skills in order to be ready for action back in the "real world."
TPC – Small teams work through a series of activity stations; each takes 30-45 minutes, including a focused discussion about how to maximize individual involvement, plan effectively, and which leadership and participation roles work best.
GeoTrek – esp collaborative – GeoTrek, based on the recreational sport of geo-caching, blends adventure and technology into an exhilarating team building experience.
Storytelling – Storytelling is the time-tested method of engaging, compelling and persuading, and is linked to our earliest cultural traditions. It's also an under-used business secret weapon, but we're changing that.
Variations
We tailor our leadership workshops for many types of groups and purposes, including:
Group Type:
Leadership Team
Group of Leaders (open enrollment)
Project Teams
Geographically Dispersed Teams/Leaders
Virtual Teams
Context:
Crisis Management
Change Management
Professional Development
Organizational Development
Leadership Incubator/Internal Recruitment (High-Potential Employees)
Leadership Retreats
Continual Improvement