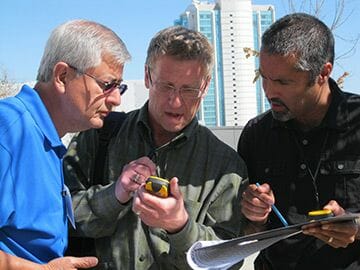 More Photos
Program Progression
Introduction and Overview
Roles and Goals
Instructions and Supplies
GeoTrek hunt
Debrief
Scoring
Nuts & Bolts
Outdoor
3–4 hours
Team size of 4; group size of 200 or more
Medium fitness suggested
Site Specific: GeoTrek courses are set in 75 cities nationwide
GeoTrek Team Building
GeoTrek, based on the recreational sport of geo-caching, blends adventure and technology into an exhilarating team building experience. Courses are set primarily in urban settings with secret caches hidden in parks or distinctive city spots. Your team will experience the novelty of learning to use GPS devices and the excitement of locating caches.
Teams receive maps, clues, and several "on-the-go" challenges. After a brief GPS lesson, you're ready to develop your plan for success. Each team chooses the caches it will attempt to locate based on point values, distances, and your team's strategy (fewer "big ticket" caches or many smaller caches).
GeoTrek can include long hikes, or a series of short walks to get to the caches, depending on your group's objectives, and many cities offer public transportation (including taxis) that can greatly increase the distances covered in this half-day team building adventure.  Your course will be customized to fit your group's needs and interests.
Benefits
Enables each team to determine and develop their own strategy and roles as they choose their route and pace.
Connects workplace analogies such as "plotting a course," and "charting new territory."
Integrates technology and human intuition, which parallel the divergent yet equally necessary components of most workplaces.
Spurs participants to explore an urban locale together (especially fun for out-of-town visitors).
Aligns with organizational competencies around: teamwork, cross-functional thinking, influence and impact, transferring knowledge, drive and persistence.
Blend with Corporate Training
Our Stages of Team Development and Emotional Intelligence workshops complement GeoTrek because small teams must quickly form and then perform at a high level.

Latest posts by AAI Staff
(see all)