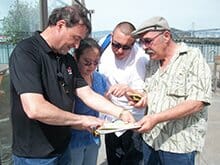 Client Story
Take to the streets to build your team
Mars Petcare leadership team builds relationships and collaborates during GeoTrek.
Team Building in San Francisco, California
From the majestic Golden Gate Bridge to the mysteries of Alcatraz, teams come to learn the history of what made San Francisco one of the most famous cities in the world. As part of your off-site meeting, wander the streets of Chinatown or bike through colorful murals in the Mission and explore all that this great city has to offer.
Featured Program
GeoTrek teams explore San Francisco
Both locals and visitors to San Francisco enjoy the thrill of locating hidden caches in the secret corners of the City by the Bay. Our GeoTrek team building event blends adventure and technology into a treasure hunt that includes GPS units, maps, clues and "on-the-go" challenges. Each team develops its own strategy; some may head for the high-value points near Nob Hill while others revel in the views as they stroll along The Embarcadero near the bustling Ferry Building. Our GeoTrek course accommodates teams who choose to walk or if planned to include North Beach or Fisherman's Wharf, teams jump on the old-fashioned trolley or the cable car.
More Adventure Associates corporate training and team building programs in San Francisco
An engaging progression of action learning exercises, Team Performance Challenges can be held indoors at your event conference center or outdoors beneath the palms of historic Fort Mason. If your meeting involves professional development, incorporate our powerful 360 Degree Insights at conference venues such as the downtown Omni San Francisco or the beautiful Cavallo Point Lodge in Sausalito.
« Back to California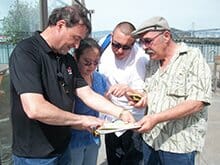 Client Story
Take to the streets to build your team
Mars Petcare leadership team builds relationships and collaborates during GeoTrek.