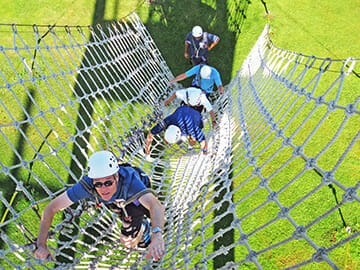 More Photos
Program Progression
Usually facilitated after the Low Ropes Course
Overview of challenges
Safety orientation and harnesses and helmets
High Ropes challenges
Debrief
Nuts & Bolts
Outdoor
3 – 4 hours after the Low Ropes Course
Team size of 12; group size of up to 100
Medium to high fitness suggested
Site specific: permanent ropes course
High Ropes Course Team Building
Business teams use harnesses, helmets, cables, ropes and wooden beams strung 20 to 50 feet high among trees or poles to explore risk-taking, trust and coaching. The unforgettable experience of the high ropes course creates an atmosphere of excitement to test your mettle and a safe place to try something new with the support of your work team.
Work teams build cohesion and have fun on the High Ropes Course
Participants appreciate the opportunity to interact with their teammates in a very different and powerful way. Our facilitators establish the context for each activity, monitor participant's safety and help the team recognize valuable insights throughout the day.
The high ropes elements are up in the trees so the perceived risk is high, but actual risk is low. Participants walk across cable bridges, negotiate giant ladders or ride zip lines through the trees as they overcome personal fears and develop new self confidence. Our philosophy enables every participant to experience their own success in the context of their own aspirations and preferred level of involvement.
High Ropes Course Challenge Descriptions
Each of our ropes course sites offers a selection of these elements.
Catwalk: Traverse from one end to the other of a high suspended beam. What might have been easy at ground level is now difficult and scary for some as you progress across the beam with nothing to hold on to.
Giant's Ladder:This pair challenge requires trust, support and communication. Two people ascend the rungs of a giant ladder made of logs. The rungs get further and further apart making the challenge increase in difficulty as the height increases. Reach the top only by working together.
Heeby Jeeby: This tricky challenge uses a hand lines to keep you stable as you balance on a rope. It gets really tough when the hand line no longer provides much support and balance and persistence must take over.
Multi-vine: Traverse a cable stretched from one tree to another using the suspended ropes hanging down.  Due to the varying lengths of each rope and distance between each one, this challenge requires confidence and the desire to take steps with unknown consequences.
Flying Squirrel: Team effort makes it possible to pull a team member (who is attached to a cable) high into the air. When the word is given, the team releases him which results in an adrenaline rush as he swings through the trees.
The Perch (or Pamper Pole or Trapeze Jump):This memorable challenge involves climbing to a very small platform on top of a pole 25 – 40" in the air. If you can figure out how to stand on top of the platform then you have the chance to jump for the trapeze hanging just out of reach.
Stretcher (or High V or Wild Woosey): The partner element takes place on a horizontal V shaped cable stretched between 3 trees high above the ground. Making sure to stay on separate cables, the partners physically support each other as their pathway and the V widens.
Zipline: The excitement of a zip line provides a reward for the effort of climbing up a ladder or foot pegs in the trees. After clipping into a safety system, the person zipping steps off the platform and then zooms back down to ground level.
Benefits
Complements the low ropes course challenges by providing the components of risk and high adventure.
Encourages participants to push the limits and go outside their comfort zone.
Initially looks unachievable and ultimately can be conquered using persistence and focus.
Allows team members to see each other in a new and different way.
Blend with Corporate Training
The High Ropes course provides a perfect vehicle for coaching and for pro-actively asking for assistance and support. Our Interpersonal Feedback Skills workshop or Emotional Intelligence workshops provide techniques to practice out on the course.

Latest posts by Rebecca Tilley
(see all)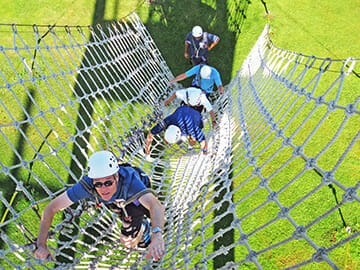 Program Progression
Usually facilitated after the Low Ropes Course
Overview of challenges
Safety orientation and harnesses and helmets
High Ropes challenges
Debrief
Nuts & Bolts
Outdoor
3 – 4 hours after the Low Ropes Course
Team size of 12; group size of up to 100
Medium to high fitness suggested
Site specific: permanent ropes course