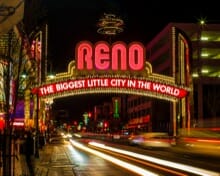 "This was fun again, as it was last year, and I believe helped our team to become stronger individually and together."
Hometown Health
Team Building in Reno, Nevada
Take your next team building or corporate training event to Reno, and find out why corporate giants like Apple and Tesla are flocking here. Just a few hours drive from the Bay Area, "The Biggest Little City in the World" offers 300 days of sun and relaxation from hiking and skiing in the Sierras to taking your chances at a blackjack table or simply strolling through the shops in the Riverwalk District along the Truckee River.
Featured Program
Indoor Rock Climbing in Reno
Whether outdoor climbing around Reno, like Donner Summit or Lover's Leap, are too hot to handle or too cold to hold, we have year-round excitement and growth opportunities for your group with Indoor Rock Climbing. Exercise your team's coaching skills, goal-setting processes and creative problem-solving as pairs of climbers and belayers take on a series of climbing challenges. From the novice to the more experienced climber, we'll get everyone warmed up with some problem-solving challenges on the ground. Then your team members will pair up with one person "on belay" supporting and observing the climber, providing the type and amount of help the climber needs—the other in a harness scaling the wall. Finally, each small team tests their new skills by competing in contests on the climbing wall. With an understanding of each person's strengths and weaknesses, participants choose between tethered pair climb, blindfolded scramble or the strategy course. No matter how high each person climbs, every participant experiences success in the context of their own aspirations and builds strong mutual support and trust that carry over to the workplace.
More Adventure Associates corporate training and team building programs in Reno
With stunning mountain views, over 600 acres, and historic indoor space, Rancho San Rafael Regional Park offers an ideal venue for our blended, portable programs. Start out the day in the restored Ranch House with our Emotional Intelligence workshop to increase your team members' self-awareness and enhance performance. Then head outside for the fun and challenging facilitated and self-directed activities in our Pursuit program. Teams develop leadership skills and co-workers bond while completing a combination of fun problem-solving challenges.

Latest posts by AAI Staff
(see all)
« Back to Nevada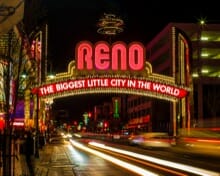 "This was fun again, as it was last year, and I believe helped our team to become stronger individually and together."
Hometown Health